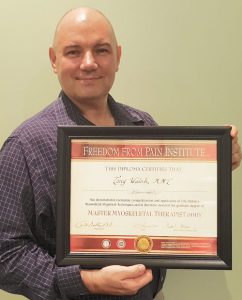 I was certified in 2013 as Remedial Massage Therapist in Cairns, Australia. I am continuously learning innovative ways to support my clients on their healing journey. To be honest, once I implemented Myoskeletal Therapy into my clinic, it revolutionized the way I treated clients and the results were impressive. 
My experience on the steps to achieving the MMT certification has been enjoyable and challenging. The ability to assess, treat and normalize a person's pain patterns, improve their posture, and getting them moving better is such a rewarding experience.
The 2015 Costa Rica workshop was one of the highlights of my MMT journey and I would highly recommend it. It's such a privilege to be the first MMT certified in both Australia & New Zealand. I have no hesitation in recommending this program to anyone who truly wants the best for their clients and is ready to upgrade their skills and get on the journey to Master Myoskeletal Therapist certification.
Tony Walsh
Cairns, Australia
+61419226406