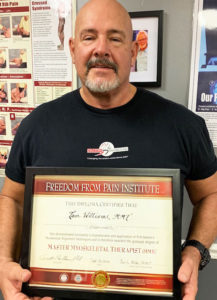 I graduated massage therapy school in 2007 after a 31 year career in law enforcement. I learned pretty quickly that regular relaxation massage was boring to me and I yearned for something more. I started checking out different types of modalities and found myself drawn to videos and dvd's put out by instructors who had a background in Rolfing. That is where I started following Erik Dalton and some of his videos on Youtube. As I was going through my Structural Integration training my instructor mentioned that he had attended one of Erik's workshops in Oklahoma City and how beneficial it was. I then purchased my first Erik Dalton course and attended his Oklahoma City workshop in 2019. I loved the workshop and decided to go all in and become a MMT myself. His training has really enhanced my business and I am excited to be the first MMT in the state of Alabama.
If you are someone who enjoys learning and wants to further your career I cannot recommend these courses enough. I love how they are readily available whenever I decide to review any of the material.
Thank you Erik Dalton and the gang!
Tom Williams Hoover, Alabama