Nicole Zorba has been working as a massage therapist in Norman since 2008. We're delighted that she decided to pursue certification as a Master Myoskeletal Therapist (MMT). Achieving this certification, one of the highest standards for a massage professional, is not easy. It takes a burning desire to get results for your clients and a great deal of commitment. You can read a little bit about her journey below. We know you'll be in great hands when you book an appointment with Nicole. For massage therapy in Norman, contact Nicole. The links are below.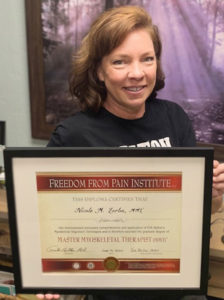 Didn't know it at first, but it turns out that I am a bit of an anatomy nerd. I began my massage career in 2008 and fell in love with the science of the body, its mechanics, and innate ability to heal itself. I have been drawn, since the start of my journey, to finding the root of a client's dysfunction and working holistically to unwind and facilitate movement that is pain-free.
My career has centered around continuing education that had these goals in mind: improving mobility, range of motion, and strengthening of the corrected structures. When introduced to Erik Dalton's Freedom From Pain Institute in 2013, my practice rose to a whole new level of success. His Myoskeletal Alignment Techniques (MAT) were just what I had been looking for! Not only can MAT be used as a stand-alone system, but it is also the "glue", the method, that brings all other acquired treatments together into a cohesive unit. Integrating MAT with multiple modalities also offers clients a unique spa experience. Not only to they yield real results of less pain and better movement, the sessions are extremely relaxing so clients can "make the world go away" (at least for an hour).
Nicole Zorba
Norman, Oklahoma