Carol Ann Kelsey-Smith is considered by many to be the top massage therapist in Greenwich, CT. We're delighted that she decided to pursue certification as a Master Myoskeletal Therapist (MMT). Achieving this certification, one of the highest standards for a massage professional, is not easy. It takes a burning desire to get results for your clients and a great deal of commitment. You can read a little bit about her journey below. She is highly skilled at treating a range of myoskeletal problems, from back to carpal tunnel syndrome. To contact Carol Ann to make an appointment for massage therapy in Greenwich, check the links at the bottom of this page.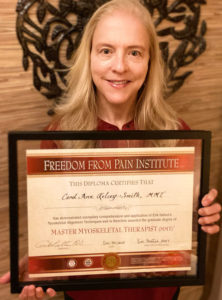 I've been practicing massage in Greenwich, Connecticut since graduating the Swedish Institute in New York City in 1997. My fascination with the human body and all its wonder has motivated me to continually study and learn. Over the course of my long career, I have strived to find the best techniques and modalities to support my clients in having the best outcome from each session. I am fully certified in multiple modalities. In 1999, I completed a 200-hour reflexology certification, master class at the New York Open Center. My desire to provide more lasting pain relief for my clients led me to study James Waslaski's 80-hour orthopedic approach. And finally, my desire to build on this knowledge led me to Erik Dalton's Myoskeletal Alignment Techniques.
In 2006, I attended my first workshop with Erik in Deerfield Beach, Florida. His rapid-fire lectures, detailed visual aids, use of anatomy and physiology, and hands-on technique instruction blew my mind. The MAT techniques were easy to integrate into my practice and my clients experienced immediate results, so I knew I needed to learn more. In 2013, I completed four more in-person MAT workshops as well as three foundational home study courses.
In 2018, I thought it was time to refresh my MAT skills and found that Erik had added five advanced courses, which came in a home study or e-learning format. He also created the Master Myoskeletal Therapist (MMT) certification program and that became my next goal. Slowly, I began working my way through the courses and my final inspiration came in 2021 when I attended Erik's "Pain Relief in Paradise Retreat" Costa Rica Retreat. This 7-day workshop was life changing!
Once again, I was struck by the depth of Erik's work and so impressed at how it had evolved and grown as I had. Inspired by this, and the wonderful sense of community I experienced in his Costa Rica workshop (with over 60 like-minded therapists), I went home and finished my MMT certification in less than a month!
Erik's e-learning courses made it so easy. I was able to do lessons between clients and used the skills immediately to further enhance each session with incredible lasting results for my clients.
Now I get to help other therapists learn these amazing skills in my role as a MAT teaching assistant for Erik Dalton and other MAT educators. We are a great community of therapists and I just love being part of the Dalton Gang!
Carol Ann Kelsey-Smith
Greenwich, Connecticut