Michelle Quigley is considered by many to be the top massage therapist in Weston. We're delighted that she decided to pursue certification as a Master Myoskeletal Therapist (MMT). Achieving this certification, one of the highest standards for a massage professional, is not easy. It takes a burning desire to get results for your clients and a great deal of commitment. You can read a little bit about her journey below. She is highly skilled at treating a range of myoskeletal issues, from back to carpal tunnel syndrome. To contact Michelle to make an appointment for massage therapy in Weston, check the links at the bottom of this page.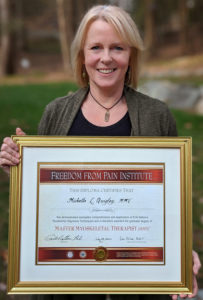 I love bodywork! And I love to learn. I graduated from massage school in 2008 and followed up with a 2½ year foundation training in Biodynamic Craniosacral Therapy (BCST). In 2011 I became a Certified Qigong Teacher. Each modality I have pursued has enhanced my skills to create comprehensive and effective healing sessions for every client. As well as numerous post graduate BCST courses, I worked my way through James Waslaski's Orthopedic Massage program in 2016 and finally landed in Costa Rica with Erik Dalton in 2018.
Erik's Myoskeletal Alignment education has contributed immensely to my success in the last 3 years. I am now able to transform lives in sessions; my business has grown so fast, and my schedule is full through nothing more than word of mouth. Clients repeatedly say they have never received a session like it, and they keep coming back for more! They have also noticed the difference as my confidence in assessing and treating complicated conditions has grown.
I felt very blessed to receive my MMT at Erik's workshop in Dublin this past August 2022. It took a few years, as I didn't want to just rush through the online classes, but really make sure I mastered the techniques through attending as many hands-on classes as possible; I repeated Costa Rica twice more and took numerous classes locally with Nate Fay.
I now assist as a TA at every opportunity, which has fine-tuned my techniques and enhanced my learning.  With the wonderful opportunities the Dalton team has provided, I am discovering my love of teaching these life-changing techniques to others in my role as TA. Thank you, Erik and Kim, and every other teacher and TA who has helped me become successful and to feel part of the family! However, it would not have been the same without the best training and travel partner, Marisel Clark, who got me started on this journey back in 2016. I look forward to our constant exchanges and discussions of the work, as much as we can manage these days, with our newly busy schedules! With much gratitude! 
Michelle Quigley
Weston, Connecticut