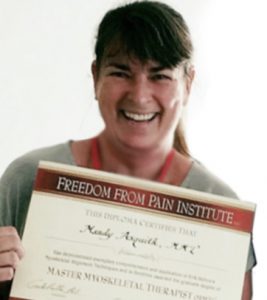 I first started following Erik on YouTube eight years ago from my home in Wakefield, England. As I began successfully incorporating some of his Myoskeletal Techniques into my practice, I realized I needed to delve deeper into this body of work. After completing the first three home study courses, my way of thinking about structure, function and the brain-body connection was turned upside down. I was beginning to see how many people in pain were suffering unnecessarily. So, to enhance my hands-on skill-set, I enrolled in Erik's week-long Costa Rica Retreat (if you're considering Costa Rica, don't think about it just do it, you'll quickly get your money back from this exotic learning experience).
I've met some amazingly talented therapists while on my MMT journey and it's been a great social bonding experience to be connected to such a wonderful and kind group of international therapists. I feel honored and privileged to have earned my MMT credentials, yet, in some ways; I feel my learning has just begun. The real learning comes from the practical application of Myoskeletal Alignment Techniques.
Thanks to Erik and his Freedom from Pain institute team and a special shout out to Aubrey Gowing who presented me with my MMT diploma at his London seminar. You all are so very supportive and generous with your time and knowledge.
Mandy Asquith
Wakefield, England ,UK
7415670675