Mal Williams is considered by many to be the top massage therapist in Wales. We're delighted that he decided to pursue certification as a Master Myoskeletal Therapist (MMT). Achieving this certification, one of the highest standards for a massage professional, is not easy. It takes a burning desire to get results for your clients and a great deal of commitment. You can read a little bit about his journey below. He is highly skilled at treating a range of myoskeletal disorders, from back to carpal tunnel syndrome. To contact Mal to make an appointment for massage therapy in Wales, check the links at the bottom of this page.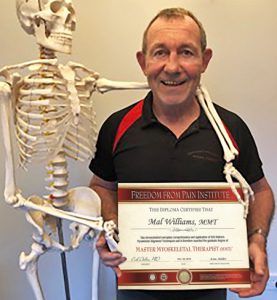 My background is 25 years in the Army Physical Training Corp during which I trained as a remedial therapist, followed by 14 years as a college lecturer. During this time, I have worked with British athletes in the sports of judo and archery and have been fortunate enough to compete internationally in both sports.
While attending a muscle energy course with John Gibbons, a fellow participant spoke about Erik Dalton and the techniques he used. After the workshop, I began researching Erik's Freedom From Pain Institute and decided that Myoskeletal Alignment Techniques was for me. The courses are easy to follow and contain extremely effective techniques. The biggest difference from other modalities I'd studied is that MAT presented a specific roadmap to follow no matter the condition. Low back pain and stiff necks are no longer guess work, I know when my client gets off the therapy table, they will feel a lot better and in most cases be pain free.
I would also like to thank Aubrey Gowing, one of Erik's instructors based in southern Ireland who helped me achieve my goal of masters in MAT. Aubrey is incredibly knowledgeable and a first-rate teacher. Finally, my thanks go out to all at the Freedom From Pain Institute staff (especially Kim Miller), who has been above and beyond helpful, and of course to Erik himself for putting it all together and making me a better therapist. Thank you all. Proud to be an MMT.
Mal Williams
Llanelli, Carmarthenshire, Wales, UK
1554705000