Lorren Belajkon is considered by many to be the top massage therapist in Willison. We're delighted that she decided to pursue certification as a Master Myoskeletal Therapist (MMT). Achieving this certification, one of the highest standards for a massage professional, is no small feat. It takes a burning desire to get results for your clients and a great deal of commitment. You can read a little bit about her journey below. She is highly skilled at treating a range of myoskeletal disorders, from back to carpal tunnel syndrome. To contact Lorren to make an appointment for massage therapy in Willison, check the links at the bottom of this page.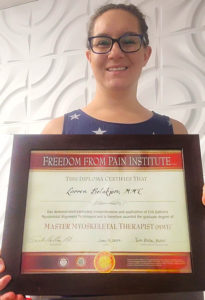 First off, thank you Erik for renewing my passion for bodywork.
After taking an eight-year break for family matters,  I returned to massage school at Williston State College, North Dakota in 2015. Following graduation, I dabbled in a few continuing education courses before discovering Erik's Myoskeletal Alignment Techniques. I began watching Erik's online videos and reading some of his blog posts and really enjoyed the way he taught bodywork techniques. After trying a few myoskeletal techniques on clients and seeing the dramatic improvements, I was hooked. I purchased Erik's "Posture, Pain Performance and Advanced Myoskeletal Techniques" textbooks and began the home study programs while gradually implementing the work into my massage sessions.

In 2019, I attended my first MAT workshop, it was the Fourth of July Celebratory Workshop with Erik Dalton in Oklahoma City. I absolutely loved everything about the event. From the hands-on teaching to networking to small group breakouts, this workshop had it all. At the end of this program I was so inspired, I bought the remainder of the home study courses and set out on my journey to complete my Master Myoskeletal Therapist certification as quickly as possible.
The silver lining of COVID for me was a solid six-week break where I was able to complete the remaining home study courses while anxiously awaiting Erik's next live "hands-on" workshop. In 2022, once again I attended Erik's MAT workshop in OKC and finally had the honor of walking across the stage to receive my MMT certificate from Erik Dalton himself… I was ecstatic!
Every day, I feel more confident applying the techniques and my clients are loving how they feel. I hope to one day be able to teach MAT to other therapists in North Dakota so they are able to help more clients recover from their pain and injury problems. Thank you, Erik Dalton and the Dalton gang!!
Lorren Belakjon
Willison, North Dakota