Jacqueline Farless-Mitchell is considered by many to be the top massage therapist in Selma. We're delighted that she decided to pursue certification as a Master Myoskeletal Therapist (MMT). Achieving this certification, one of the highest standards for a massage professional, is not easy. It takes a burning desire to get results for your clients and a great deal of commitment. You can read a little bit about her journey below. We know you'll be in great hands when you book an appointment with Jacqueline. For massage therapy in Selma, contact Jacqueline. The links are below.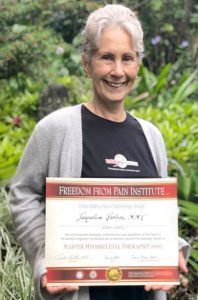 I began my MAT journey twelve and a half years ago at Erik's "Pain Management in Paradise" Costa Rica Retreat and what a mind-changer. Since that event, I've expanded my skill-set to an understanding of how spinal biomechanics affects the nervous system and how the brain controls muscle tone and movement. Learning to balance the head and tail for optimal nervous system functioning really resonated with my instincts for bodywork.
Erik suggested I start with the Advanced Myoskeletal (now called Upper Body) which I did. It took me almost two years to feel that I had a good understanding of the program. It changed not only my view of the physical body structurally, but my philosophical view of how to better relate to my clients about their pain. Since then, my practice has almost tripled and my clients are thrilled with the way the MAT treatments make them feel.
I ordered all the new MAT books and videos when they were released and also kept up with Erik's weekly blog and videos on Technique Tuesday. Bringing the brain and nervous system into the mix made me want more so this year I headed back to Costa Rica again to finalize all I'd been learning. It's been a fantastic journey that will never end for me. Both my clients and I are grateful for the opportunity to learn and benefit from this system.
Jacqueline Farless-Mitchell
Selma, Oregon
541-597-4749