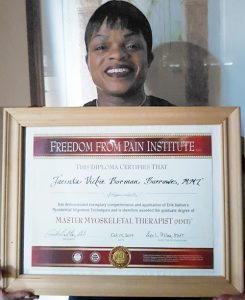 I am the owner/director of Quantum Touch by Winston and Vickie "B" fitness studio in Barbados and I also work with Sandy Lake Resort Hotel, one of the most prestigious and premiere hotels in the world. In the fitness world, I am an IFBB professional bodybuilding competitor, a licensed sports therapist and my passion is helping people deal with rehab after injury or surgery, to recover faster, and with less pain.
With a varied background in motivational mentorship, I am committed to helping integrate unexpressed emotions by increasing one's awareness of how their thoughts and beliefs may be impacting and affecting their life and recovery process.
I first heard about MAT 8 years ago from one of my massage teachers (Andrea) who commented one day in class: "If you really want to know more about the body and further your career, check out Erik Dalton." I began Myoskeletal home-study training and decided I needed to be part of this amazing journey. So, in 2017 I attended Erik's "Pain Management in Paradise" Costa Rica Retreat and it was truly was a life (and career) changing experience for me!
MAT has taught me to give my clients hope, faith and belief! The results are sometimes amazing as I remind them to remember the first day they arrived and the difficulty they had moving a body part. Humility, self-love and self-discipline are part of what I teach my clients daily. I am truly appreciative to the entire Dalton team for opening my eyes to see that it's possible to eliminate most strain patterns and live pain free!
Jacinta Vickie Borman-Burrowes
Bridgetown, Barbados
12468302220