If you're looking for massage therapy in Austin, Elizabeth Scott is the massage therapist to see. We're delighted that she decided to pursue certification as a Master Myoskeletal Therapist (MMT). Achieving this certification, one of the highest standards for a massage professional, is not easy. It takes a burning desire to get results for your clients and a great deal of commitment. You can read a little bit about her journey below. We know you'll be in great hands when you book an appointment with Elizabeth. For massage therapy in Austin, contact Elizabeth. The links are below.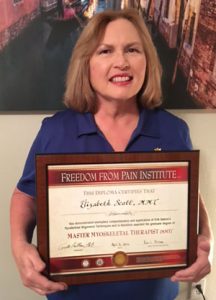 I have been practicing the art of massage & bodywork for over 20 years. First in South Florida and presently in Central Texas at a world class spa. Some folks have been able to find me through Erik's website. Thank you! I regularly return the favor by referring people all around the country to this website so that they may discover a Myoskeletal Therapist near them.
Five years ago, I finally began this wonderful journey to become an MMT. This work has not only transformed my practice; it has changed the way I see, think and feel. There is a new challenge every day and this work has become my passion. Yes, I too have become the "go to "therapist and I love it! My clients are in corporate, private and resort settings. Once they experience Myoskeletal Therapy, there is no going back. I thank you for that!
Anyone interested in falling in love with their work again…. check out Dr. Dalton! It feels great to deliver the best care and always be informed with current updates.
Elizabeth Scott
Austin, Texas
954-864-6147