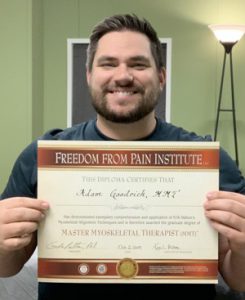 I began my career as a physical therapy assistant, yet soon realized that the hands-on pain relief work was my lifetime calling. I am grateful of the knowledge gained through my 4+ years of PTA schooling. It definitely made me a better therapist and I don't regret it for a second. When I began my Myoskeletal journey in July of 2015, the blinders slowly came off come off as I attempted to integrate the concepts and techniques concurrently, but once they did… LOOK OUT
I've gained a deeper understanding of the musculoskeletal system that, I feel, matches almost any professional in the same realm. My path to becoming a Master Myoskeletal Therapist has made me the go-to massage specialist in my area and known as the guy who can rid clients of chronic migraines when nothing else has helped. With all this advanced training I've now broadened my scope to treating competitive athletes. I'm so happy I decided to invest in this journey and I look forward to continued growth in the massage world for the rest of my career.
Thank you Erik Dalton, Dave Clinger and the rest of the Dalton gang! Best wishes to you all…proud to be an MMT!!!
Adam Goodrich
Findlay, Ohio
419-957-8953