Drew Wilson is considered by many to be the top massage therapist in Lubbock. We're delighted that he decided to pursue certification as a Master Myoskeletal Therapist (MMT). Achieving this certification, one of the highest standards for a massage professional, is no small feat. It takes a burning desire to get results for your clients and a great deal of commitment. You can read a little bit about his journey below. We know you'll be in great hands when you book an appointment with Drew. For massage therapy in Lubbock, contact Drew. The links are below.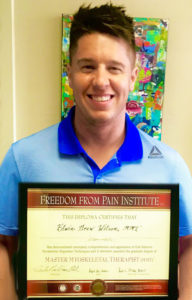 After spending four years working as a Paramedic in a small west Texas town, I felt a calling to pursue something different. Initially, I was unsure of the direction I would go, but I knew I wanted to continue to help people in their healing process.
Due to the strain of the demanding job of being a first responder, and the overuse injuries sustained from years of athletic endeavors, I found myself dealing with multiple areas of personal musculoskeletal pain. I tried several methods for alleviating my chronic pain before finding Master Myoskeletal Therapist Jeff Goley's "Therapy Today" clinic in Lubbock, Texas. I knew that my body needed more than a relaxing, spa massage, but what I did not know is that I would actually find the career path I had been looking for.
During the weeks of Myoskeletal Therapy treatments for my pain and injury issues, Jeff began sharing with me the things he'd learned from Erik Dalton's trainings and how it had enhanced his love for his job and the benefits he was seeing with his clientele. Sensing my interest, he offered to mentor me and encouraged me to join his practice and study Myoskeletal Therapy.
Long story short, I joined Jeff as a therapist in his clinic, started taking Erik's eCourses online, and attending live MAT workshops whenever possible. And, now I'm honored to say I have achieved my goal as a Master Myoskeletal Therapist. I'm thankful for the day I met Jeff and the training I've received from Erik Dalton and his outstanding team of teaching assistants and fellow MMTs. These unique hands-on skills have truly changed my life and the lives of the many clients I've treated for persistent pain and injury issues. Proud to me a MMT!!!
Drew Wilson
Lubbock, Texas