David Clinger has been working as a massage therapist in Findlay since 2003. We're delighted that he decided to pursue certification as a Master Myoskeletal Therapist (MMT). Achieving this certification, one of the highest standards for a massage professional, is not easy. It takes a burning desire to get results for your clients and a great deal of commitment. You can read a little bit about his journey below. We know you'll be in great hands when you book an appointment with David. For massage therapy in Findlay, contact David. The links are below.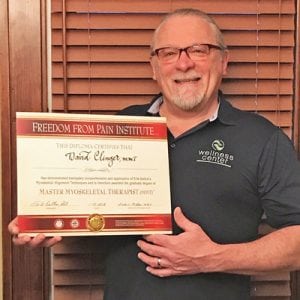 For 31 years I worked at a factory where I helped coordinate the Health & Wellness committee and learned firsthand about repetitive use injuries as well as the importance of ergonomic awareness to physical function. I have been a runner since my 20's and competed in numerous races including participating in the 1983 Boston Marathon. Running helped me see the benefits of massage and inspired me to become a Massage Therapist.
In January 2003, I started a second career as a Massage Therapist. Over the years, my practice has become an alternative and integrative approach to healthcare – utilizing massage, acupuncture, nutritional counseling, life coaching and other treatment modalities for overall wellness.
As a therapist, I pursue educational programs which significantly extend my knowledge and skills in areas beyond the initial massage training. My Wellness Center (www.wcyeph.com) offers such beneficial therapies as lymph drainage, medical massage, orthopedic massage for pain management. I find that the therapy that has had the most significant and long-lasting impact on my clients' conditions is Myoskeletal Alignment Techniques (MAT).
During the last 7 years working with the "Dalton Gang" on separate or collaborative MAT workshops throughout the US and in Costa Rica, has increased both my knowledge and skills well beyond what I could have imagined possible. Thus, I have developed skills of holistic massage in a community of influential teachers. My focus on lifelong learning has led me to the most innovative practitioners of medical massage, thereby enlarging my capacity to treat a wide spectrum of inter-related problems.
As a therapist with a "wide-angle" view of the body from experiences and education, I can sum up my accumulated understanding that our "bodies live for healthy movement". Without exaggeration, my passion for massage – especially Erik Dalton's MAT above all other modalities – has fueled my desire to help others achieve healthier lives and lifelong wellness.
Thank you, Erik Dalton, for being a genuine healthcare professional who inspires others!
David A Clinger
Findlay, Ohio
419-306-5676