If you're looking for massage therapy in Terre Haute, Charlie Peebles is the massage therapist to see. We're delighted that he decided to pursue certification as a Master Myoskeletal Therapist (MMT). Achieving this certification, one of the highest standards for a massage professional, is not easy. It takes a burning desire to get results for your clients and a great deal of commitment. Below is his story in his own words. This talented therapist can help you with all kinds of musculoskeletal disorders, including headaches, rotator cuff problems, sports injuries, and more. To book an appointment for massage therapy in Terre Haute, click the appropriate link at the bottom of this page.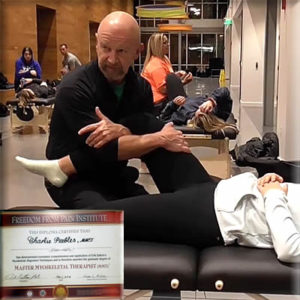 From the time I was a kid I always played sports and coming from Indiana, I always loved basketball. However, being only 5' 11" and not that fast or a good jumper, high school basketball was my physical limit. The sport that I really excelled at was golf and my golfing career carried me places I would have never dreamed of… but massage therapy … who would have thunk it? Yet, my wife, and I ended up owning a salon and spa in Florida that transported me into massage therapy.
Because of my sports background, my interest focused more on corrective manual therapy. I always thought that the spine was the one of the "keys" to proper functional movement and although learning Swedish massage was great, I was looking for a better understanding of human movement.
Voila, enter Myoskeletal Alignment Techniques! For me, this training separated spa from sport massage. Suddenly, I began hearing concepts like upper & lower crossed syndromes, motor dominant patterns, functional and structural scoliosis, and many more pattern-related dysfunctional conditions. Yes, and the idea that we as humans develop dysfunctional movement patterns that we hold subconsciously until a trained therapist brings them to our attention was groundbreaking for me.
All this information really got me excited about what I could do next as a massage/manual therapist. Today, Im proud to say that our Advanced Myoskeletal degree minor at Indiana State University stands out as the leading massage therapy program in the country. I'm honored to be a Master Myoskeletal Therapist and Indiana State University instructor for this ground-breaking program.
Charlie Peebles, MMT
Terre Haute, Indiana