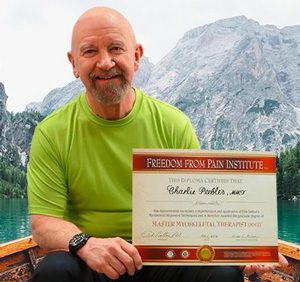 Going back from the time I was a kid I always played sports and coming from Indiana I loved basketball. However, being only 5' 11" not that fast, and couldn't jump that high, I only had the chance to play some high school basketball. The sport that I really excelled at was golf and my golfing career carried me places I would have never dreamed of. But "Massage Therapy"… who would have thunk it? Yet, my wife, and I ended up owning a salon and spa in Florida that transported me into massage therapy.
Actually, I have made my living in Information Technology (IT) for 30+ years and when I left IBM and purchased a salon and spa, I had to figure out what I was going to do in that industry to make some money, right? So because of my sports back ground and my interest in massage, I ended up in a school a few blocks from my business…the rest is history!
Because of my sports back ground, my interest focused more on corrective manual therapy. I always thought that the spine was the one of the "keys" to proper functional movement and although learning Swedish massage was great, I needed more input that would help me better understand functional movement.
Voila, enter Myoskeletal Alignment Techniques! For me, this training separated the spa from the sports. Suddenly, I began hearing concepts like upper & lower crossed syndromes, motor dominant patterns, functional and structural scoliosis, and many more pattern-related dysfunctional conditions. Yes, and the idea that we as humans develop dysfunctional movement patterns that we hold subconsciously until a trained therapist brings them to our attention was groundbreaking for me. All of this information really got me excited about what I could do next as a massage/manual therapist.
Kudos to Erik Dalton for taking our profession from a relaxation to a posture, pain performance model. God blessed our community when Erik developed Myoskeletal Alignment Techniques!
I also have to say something about Mr. Paul Kelly. He is another person that I am thankful to have in our manual therapy community as a teacher of MAT. Paul definitely has the gift for teaching and I have enjoyed his views and ideas. I know I have thanked these two industry leaders before, but because of these two guys, our minor degree at Indiana State University stands out as a leading massage therapy program in the country. Thank you both and God Bless!!!
Charlie Peebles
Terre Haute, Indiana
765-505-3552