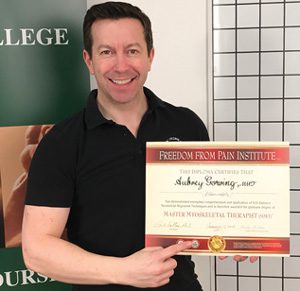 Despite having gained 40+ qualifications and certifications in my 29 years of practice, the one that has without a doubt meant the most to me personally and professionally is the Master Myoskeletal Therapist certification.
Here is the feedback on what MAT has done for my students and me.
"The study of Myoskeletal Therapy has revolutionized both my practice and my teaching. The results I see on a daily basis are nothing short of astounding. Our students regularly come to class telling of the dramatic effects their MAT studies have had on a client's condition. This quickly builds confidence and helps them realize the positive effect they have in getting people out of pain, improving posture and getting them back to doing the activities and sports that they love. Even when clients present with complex conditions.
The steps to achieving MMT certification are one of the most enjoyable and rewarding journeys I've taken in my life. I have no hesitation in recommending this program to anyone interested in providing the best possible care for their clients. Even excellent therapists who've not yet incorporated Myoskeletal techniques into their practice may be unnecessarily limiting themselves from reaching their full potential. Don't wait, pick any module that appeals to you and jump right in. You will not regret it, and your clients will undoubtedly thank you!"
Aubrey Gowing
Swords County, Dublin, Ireland
253-1-895-6337