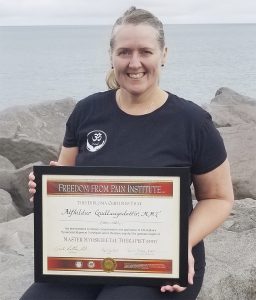 As owner and operator of a successful wellness and yoga center in Iceland, I've always had a special interest in human anatomy. With every passing year, I've become increasingly fascinated with the role the nervous system plays in pain, pathology and movement dysfunction.
A few years after graduating massage college, I realized I had to continue upgrading my skill-set to help deal with clients presenting with chronic pain and sports injuries…. but where to start?
I began by scouring the Internet, watching YouTube presentations, and experimenting with various manual therapy modalities. Soon I found that I kept returning to Myoskeletal Alignment Techniques because of clinical results I was achieving.
In some cases, I found that a few MAT sessions alleviated serious conditions such as rotator cuff tendinopathies and sciatica in clients who were seriously considering surgery… what an exciting revelation!
My passion and hands-on skills continued to flourish as I made my way through each of Erik Dalton's very well organized and beautifully illustrated Master Myoskeletal Therapist courses. I am sincerely grateful to Erik and his illustrious training team and honored to be part of this forward-thinking group. Proud to be a MMT.
Alfhildur Gudlaugsdottir
Reykjanesbæ, Iceland
354-845-5422