If you're looking for massage therapy in London, Yasmin Malik is the massage therapist to see. We're delighted that she decided to pursue certification as a Master Myoskeletal Therapist (MMT). Achieving this certification, one of the highest standards for a massage professional, is not easy. It takes a burning desire to get results for your clients and a great deal of commitment. Below is her story in her own words. This talented therapist can help you with all kinds of musculoskeletal problems, including headaches, rotator cuff problems, sports injuries, and more. To book an appointment for massage therapy in London, click the appropriate link at the bottom of this page.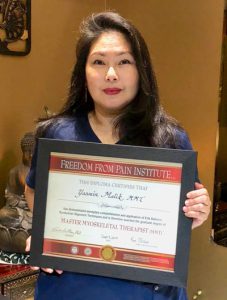 Since graduating in 2010, I've endeavored to expand my knowledge and bodywork skills in areas beyond my initial massage training. While attending a NRT (Neural Reset Therapy) workshop in Iowa, I overheard a classmate discussing his success with Erik Dalton's Myoskeletal Alignment Techniques. I immediately began researching the MAT program by reading Erik's blog posts and watching YouTube videos and soon enrolled in his Oklahoma City workshop. It didn't take long before I was hooked on MAT and so were my clients.
Last year my Master Myoskeletal Therapist goal was finally accomplished and I was able to complete the 210-hour program in only one year.
I am honored and proud to now be a part of the MMT team and the first in London, England. I want to thank Erik for his inspiring workshops, DVD's and books. My hands-on skills and client relationships continue to improve as I keep reviewing all the material. Every day I feel I'm better able to help my clients improve function and reduce pain.
I also want to thank all the Dalton Gang… it's such an honor to hang out and learn from such a compassionate and loving group of therapists. My knowledge and skills have well exceeded what I could have imagined. Myoskeletal Alignment Techniques has changed my practice. Thank you Erik Dalton for making life easier by doing this work! My clients love it! I love it!
Yasmin Malik
London, England UK
44 7427 062040