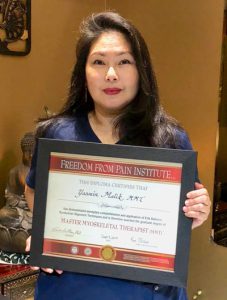 Since graduating in 2010, I've endeavored to expand my knowledge and bodywork skills in areas beyond my initial massage training. While attending a NRT (Neural Reset Therapy) workshop in Iowa, I overheard a classmate discussing his success with Erik Dalton's Myoskeletal Alignment Techniques. I immediately began researching the MAT program by reading Erik's blog posts and watching YouTube videos and soon enrolled in his Oklahoma City workshop. It didn't take long before I was hooked on MAT and so were my clients.
Last year my Master Myoskeletal Therapist goal was finally accomplished and I was able to complete the 210-hour program in only one year.
I am honored and proud to now be a part of the MMT team and the first in London, England. I want to thank Erik for his inspiring workshops, DVD's and books. My hands-on skills and client relationships continue to improve as I keep reviewing all the material. Every day I feel I'm better able to help my clients improve function and reduce pain.
I also want to thank all the Dalton Gang… it's such an honor to hang out and learn from such a compassionate and loving group of therapists. My knowledge and skills have well exceeded what I could have imagined. Myoskeletal Alignment Techniques has changed my practice. Thank you Erik Dalton for making life easier by doing this work! My clients love it! I love it!
Yasmin Malik
London, England UK
44 7427 062040