Victoria Williams is considered by many to be the top massage therapist in Wales. Victoria completed her Master Myoskeletal Therapist (MMT) certification in 2020. For massage therapy professionals, it's one of the most highly regarded certifications that a massage therapist can receive. It's a rigorous process, and few therapists get to use the designation. Below is her story in her own words. This talented therapist can help you with all kinds of musculoskeletal disorders, including headaches, rotator cuff problems, sports injuries, and more. To book an appointment for massage therapy in Wales, click the appropriate link at the bottom of this page.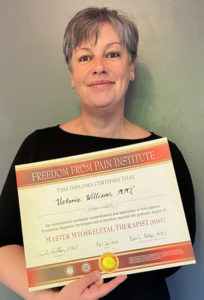 As an international archer competing for Great Britain at the World and European Field Championships, I developed a keen interest in keeping myself fit so I could stay competitive. So, in 2012 after 3 years of juggling full-time work, archery, and massage college, I managed to achieve my Sports Massage certification. That same year I decided to leave my job and set up my own sports therapy practice, dividing my time between my clinic and treating the Sports Wales and Commonwealth Olympic team swimmers.
What followed was 7-8 years of hard work in the clinic with my husband Mal Williams where our practice grew exponentially. During that time, Mal completed his Master Myoskeletal Therapist certification in Costa Rica and has since developed a reputation locally as the go-to fixer of all musculoskeletal ailments. In our clinic, Mal took on all the deep rooted, more debilitating cases and I continued treating clients with less complex issues.
It wasn't until January 2020 whilst chatting with Aubrey Gowing that the seed was sown for my own journey to becoming an MMT. Aubrey casually asked when I was going to start my MMT training and my response was an underwhelming "why would I?" Upon reflection I was shocked at my response. Usually the high achieving, go-getter, I realised that I'd been drifting for a while and needed to get back into learning and developing my hands-on skills. Of course, the only way forward was with Erik Dalton, given that I had seen first-hand how the knowledge Mal had gained enabled him to successfully treat so many of our clients. Within days of the conversation with Aubrey I embarked on my online studies, ticking off the courses during lots of spare time due to the lock-down. However, I worried about when I'd be able to do the in-person training required, given that travel was not an option. Once again Aubrey and the Freedom from Pain Institute stepped up with the solution and I was able to attend virtual seminars from the comfort of our own therapy couch. Having Aubrey and Alison (both MMTs) on the screen and Mal in the room as my client, I sometimes felt my brain was becoming over saturated. Til Luchau, Sue Hitzmann and Erik Dalton himself all contributed sessions during the virtual seminars and I feel very fortunate to have been able to complete this journey during the global pandemic.
I've learned so much that now I feel inspired to keep on learning. I am more confident and capable as a therapist when faced with clients presenting with more complex problems. So, thank you to everyone who has contributed to this journey for sharing your knowledge and for holding my hand every step of the way.
Victoria Williams
Wales