Sean Baker is considered by many to be the top massage therapist in Austin. We're delighted that he decided to pursue certification as a Master Myoskeletal Therapist (MMT). Achieving this certification, one of the highest standards for a massage professional, is no small feat. It takes a burning desire to get results for your clients and a great deal of commitment. You can find out more about him below. We know you'll be in great hands when you book an appointment with Sean. To book an appointment for massage therapy in Austin, click the appropriate link at the bottom of this page.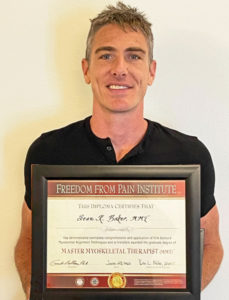 Helping guide people out of pain is one of the most enjoyable aspects of my life. It's truly a remarkable feeling.
After stumbling across a YouTube clip of Erik in 2017, I knew I had found my next passion. Pursuing my MMT certification has not only been an incredibly rewarding experience, but has also significantly enhanced my abilities to help others. Additionally, as relationships deepen with clients and intentional touch becomes more profound, it's wonderful to observe anxiety and other sympathetic symptoms alleviated.
Learning Myoskeletal Alignment Techniques has already enriched my life in wonderful ways and I'm excited to share it with as many people as possible.
Sean K. Baker
Austin, Texas