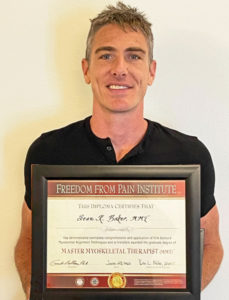 Helping guide people out of pain is one of the most enjoyable aspects of my life. It's truly a remarkable feeling.
After stumbling across a YouTube clip of Erik in 2017, I knew I had found my next passion. Pursuing my MMT certification has not only been an incredibly rewarding experience, but has also significantly enhanced my abilities to help others. Additionally, as relationships deepen with clients and intentional touch becomes more profound, it's wonderful to observe anxiety and other sympathetic symptoms alleviated.
Learning Myoskeletal Alignment Techniques has already enriched my life in wonderful ways and I'm excited to share it with as many people as possible.
Sean K. Baker
Austin, Texas