If you're looking for massage therapy in Eden, Robin Palumbo is the massage therapist to see. We're delighted that she decided to pursue certification as a Master Myoskeletal Therapist (MMT). Achieving this certification, one of the highest standards for a massage professional, is not easy. It takes a burning desire to get results for your clients and a great deal of commitment. You can read a little bit about her journey below. We know you'll be in great hands when you book an appointment with Robin. For massage therapy in Eden, contact Robin. The links are below.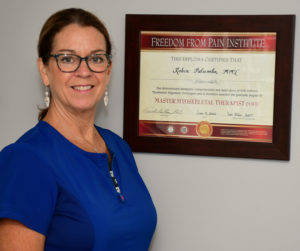 25 years ago, I found myself searching for that career which would feed my soul and fill my passion for helping others. I certainly found that in the field of massage and bodywork. I graduated Valedictorian from the New York Institute of Massage, class of 1997 and in 1998 I opened a private practice in Hamburg, NY. Throughout the years I have trained and worked with some of the top educators in the field including Erik Dalton. I took my first class here in Buffalo with one of Erik's instructors, Tammy McCue, and implemented the Myoskeletal Alignment Techniques into my practice immediately. The feedback from my clients was so positive I decided to journey into becoming a Master Myoskeletal Therapist. I jumped right in and purchased the entire eCourse bundle from The Freedom from Pain Institute. I continued to take more in person classes with Nate Fay and Tammy.
After completing the home study program, I knew I had to go to the Oklahoma City workshop to meet and learn from Erik himself. It was there that I received my MMT Certification. What a fantastic experience that was to be in the company of over 250 therapists and top educators! I have since been honored to assist Tammy McCue in a couple classes, helping other therapists on their journey to learn, and master these Myoskeletal Techniques. Thank you, Erik, and the entire "Dalton Gang" for sharing your expertise and knowledge!
Robin Palumbo
Eden, New York