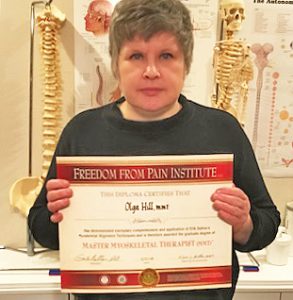 I graduated from Central State Massage Academy in Oklahoma City in 2004, and certified as a Medical Massage Practitioner by Medical Massage Practitioners of America. Since Medical Massage is an umbrella term encompassing ten primary modalities with clinical applications for each, I discovered that the broader my scope, the better my results and the more referrals I was getting.
Techniques are the tools we use in our practice, yet much of our success comes from the rapport we build with clients over time. Since 2002, Erik Dalton's Myoskeletal Alignment Techniques has helped me acquire not only improved hands-on and home retraining skills, but also better ways to talk to my client's about their pain and injury conditions. I've found that knowledge is a treasure, but practice is the key.
Some of my clients who've moved to other states have asked how they can find a MAT certified therapist to continue this amazing therapy and I am more than happy to send them to Erik's website. And some clients moving to Oklahoma contact me from Erik's website because of their experience with Myoskeletal Techniques in their own state.
I continue to learn from Erik…. his knowledge is endless, and it inspires me tremendously. This MMT program has been one of the best investments in my life. It has considerably increased my business. I am so blessed that I found you.
One of my favorite sayings from Erik Dalton is "the truly educated never graduate." Thank you Erik for your amazing work!
Olga Hill
Oklahoma City, Oklahoma
http://www.okcmassageclinic.com
405-728-5000