Niall Kelly is considered by many to be the top massage therapist in Louth. In 2011, Niall got their Master Myoskeletal Therapist (MMT) certification. It's a big step up from being a standard licensed massage therapist and requires a great deal of drive to achieve. We're pleased that he made that commitment and impressed with the results he gets with clients. You can read a little bit about his journey below. We know you'll be in great hands when you book an appointment with Niall. To contact Niall to make an appointment for massage therapy in Louth, check the links at the bottom of this page.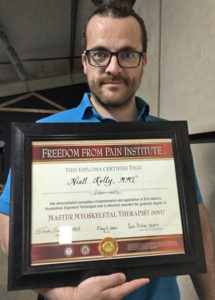 Finding somewhere to study massage in the late 90's in North East Ireland wasn't the easiest. I finally found a beauty therapy college that would take me and I convinced a buddy of mine to join me so I wouldn't be the only guy in the course. My studies began with Swedish Massage and then Sports Massage the following year. Following graduation, I felt totally unprepared and unconfident, yet experience over the years taught me that the only way I was going to learn and get better was by working on as many bodies as possible, so that's what I did. I remember in the beginning potential clients would call and I'd ask plenty of questions about their pain complaints over the phone and then go study everything I could find about their condition so I would be as prepared as possible when then came in.
I first came across Erik Dalton's work in a Massage Magazine article in early 2000's while visiting the UK. It blew me away. His understanding and approach excited me and demystified what I was doing. Erik had simplified and refined his craft so well. What once seemed complex, suddenly seemed so simple. Even now it's easy to forget some of the gems I've picked up over the years from Erik's work, because it has become so ingrained in what I do in my daily practice.
Starting in 2011, I began a slow and steady approach to my Master Myoskeletal Therapy training while busy building my clinic and coaching business. My gaol was to study a wide diversity of subjects on health, exercise, therapy, and pain, but I would always keep coming back to Erik's courses. I now have a fellow coach who has only recently started on the MMT path and I'm excited for her knowing how much it has helped my career. I'm absolutely delighted to be part of the MMT family and look forward to more of Erik's future gems.
Niall Kelly
Louth, Ireland