If you're looking for massage therapy in Columbus, Melissa is the massage therapist to see. We're delighted that she decided to pursue certification as a Master Myoskeletal Therapist (MMT). Achieving this certification, one of the highest standards for a massage professional, is not easy. It takes a burning desire to get results for your clients and a great deal of commitment. You can read a little bit about her journey below. We know you'll be in great hands when you book an appointment with Melissa. For massage therapy in Columbus, contact Melissa. The links are below.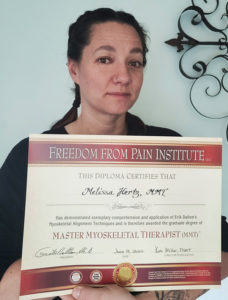 I discovered Erik's Myoskeletal Techniques program in an article in Massage Magazine about 10 years. I had always wanted to take his courses but as a military affiliated person, our cross country moves always interfered with my plans.
In 2019, I attended his Oklahoma City July 4th event and, needless to say, I was hooked! After completing my Masters in Kinesiology at the end of 2020, I attended another OKC workshop. I decided to go all in with Erik's program. I really dug in and completed the entire program in 10 months.
While working my way through the courses, I began implementing the techniques and my clients were thrilled! The MMT program has helped me establish better communication skills and better relationships while getting my clients on the path to a pain free life! Studying MAT techniques and implementing them has been one of the best things I've ever done for my clients and career. I'm so grateful I found Erik's program and I'm proud to now be a Master Myoskeletal Therapist.
Melissa Hertz
Columbus, Georgia