If you're looking for massage therapy in Derby, Haysville, and Wichita, Mary Jo James is the massage therapist to see. We're delighted that she decided to pursue certification as a Master Myoskeletal Therapist (MMT). Achieving this certification, one of the highest standards for a massage professional, is no small feat. It takes a burning desire to get results for your clients and a great deal of commitment. You can read a little bit about her journey below. We know you'll be in great hands when you book an appointment with Mary. For massage therapy in Derby, Haysville, and Wichita, contact Mary. The links are below.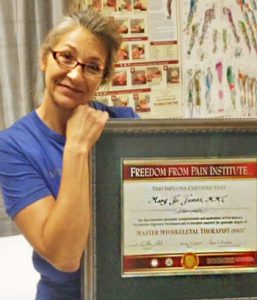 In March 2001, I attended my first Myoskeletal Alignment Techniques class with Erik Dalton and I was hooked! Erik was assessable, knowledgeable, entertaining… and he had the Dalton Gang! I didn't have to "hope" I was doing it right because there was always someone near to assist me. I literally put my future in their hands and with lots of study, practice and planning I've now proudly achieved my "Master Myoskeletal Therapist" certification.
For 17 years, I've been using Erik Dalton's Myoskeletal techniques with great success. And I've found that I can either apply the full sequence to improve overall health and well-being or concentrate on specific areas to help alleviate a particular problem. Nothing makes me happier than a smiling client leaving my massage room saying, "I don't know what you did but the pain is gone."
Erik has taught me to look for patterns and accompanying compensations and to stop chasing the pain. I certainly think and strongly believe my clients would agree, that my investment in training and knowledge was well worth it.
So, a great big thank you to Erik, Kim and the whole 'Dalton Gang' for providing the knowledge and training that enhances the healing process and drives new clients into my practice. If anyone is considering attending a workshop or acquiring the books and videos from the Freedom From Pain Institute, I say "Do it, you will not regret it!"
Mary Jo James
Derby, Haysville and Wichita, Kansas
316-250-7683