If you're looking for massage therapy in Northern Ireland, Martin is the massage therapist to see. We're delighted that he decided to pursue certification as a Master Myoskeletal Therapist (MMT). Achieving this certification, one of the highest standards for a massage professional, is not easy. It takes a burning desire to get results for your clients and a great deal of commitment. Below is his story in his own words. This talented therapist can help you with all kinds of musculoskeletal conditions, including headaches, rotator cuff problems, sports injuries, and more. To book an appointment for massage therapy in Northern Ireland, click the appropriate link at the bottom of this page.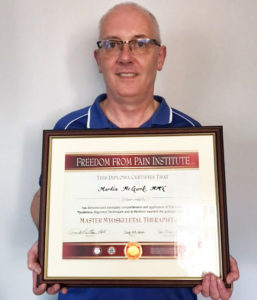 My passion has always been to help people living with acute or chronic injuries and learning massage seemed the best way to accomplish this. I began my massage studies in 2011 at the North West Regional College, Derry, Northern Ireland. I completed initial trainings in Indian Head and Swedish massage and Level 3, 4 & 5 in Sports Massage. As I began to use these skills in my massage practise I saw great benefits to my clients. However, I had read about more advanced techniques and intuitively knew I wanted to learn more.
I completed my training at Holistic College Dublin (HCD) under the guidance of Aubrey Gowing and Alison Kavanagh (College Directors), with a wealth of knowledge between them in massage and cutting-edge sports massage and techniques. At HCD I continued learning new techniques and undertook various trainings. This is where I became interested in Erik Dalton's Myoskeletal Alignment techniques (MAT). MAT brings together the most advanced therapeutic strategies designed to restore function, relieve pain and rebalance the body. As I learned MAT and began using it in my massage practice, I realized I wanted to learn every possible technique available as the visible results for my clients were remarkable. During lockdown in 2020, I worked through Erik's foundational and advanced courses. These courses kept me sane during the pandemic!
In 2022, after two years of dedication, to reach my goal I became a "Master Myoskeletal Therapist" at Erik's workshop in Dublin Ireland. Completing my MMT training has provided me with invaluable skills and knowledge to create life changing results for my clients. The information contained in Erik's books, DVD's and online resources and the expert training from Aubrey Gowing and Alison Kavanagh, I consider to be world class. I now have so many tools and resources at my disposal to make accurate assessment of conditions causing my client's pain. Following the assessment, I am able to carry out individualised sessions for my clients to facilitate lasting change. This work has given me the confidence and ability to recognize common compensatory and strain patterns and work with clients to restore order and bring balance to their body.
Becoming a Master Myoskeletal Therapist has been my greatest achievement as a massage therapist to date. Proud to be an MMT!!! A big thank you to Erik, Aubrey, Alison, Kim and the Dalton Gang! It was the best decision I've ever made!
Martin McGurk
Northern Ireland, UK