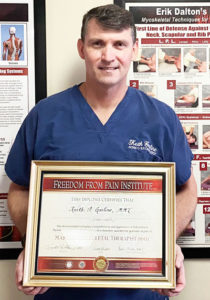 As a practitioner committed to creating healthier and happier lives for my clients, intent guides my practice and my health journey.
With 20 years' experience as a manual therapist, reflexologist, hands-on instructor, and massage school director, I've come to realize that students, employees, and clients do not care about how much I know until they know how much I care about them and their success.
As a Master Myoskeletal Therapist (MMT), Certified Kinesio Taping Practitioner (CKTP), and Certified Exercise Physiologist (ACSM EP), it is a joy and privilege to get the results my clients need for optimal function. Clients need continuous education, periodization and progressive fitness/sports training to continue their healing journey, and they need to know I am here to support their success knowing that their 'best' is always changing.
I am grateful for Erik Dalton's dedication in helping people live healthier lives as well as creating a methodology so manual practitioners can follow his example and his teaching. I am repeatedly inspired by his compassion towards others and commitment to developing the art and science of Myoskeletal Alignment Therapy. Proud to be a MMT.
Keith Gosline
Falcon Heights, Minnesota
Santo Domingo, Dominican Republic