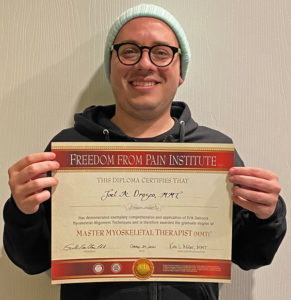 Two teachers in massage school encouraged me to focus on the medical aspect of massage.
While still in school, they introduced me to Erik Dalton's work and the door to an unknown dimension of bodywork was opened. I crossed it and found the answers to many questions right before me. The rest is history.
However, my story should not be a story of one. It has been a journey of many. At my first MAT workshop, I stumbled upon the "Dalton's gang" who were so eager to teach, yet ready to learn. What a wonderful and warm-hearted bunch they are. Among them I met Nathan Fay, whose teaching abilities and humbleness have inspired and enlightened my path. And the father of it all (or maybe grandfather at this point?), Erik Dalton, who along with very few others, has committed his life to bringing manual therapy not only to the surface, but also to the top of the hill. I sincerely hope that future generations of bodyworkers will fully understand how much we owe him (and them.)
Finally, I must express gratitude to my baby son and his mom who have been so patient during my traveling. He is my sunbeam and his existence has brought so much light and joy to my life. I hope one day he'll learn the powerful magic of kindness through touch… I'm still learning it.
One last thought. I urge every bodyworker out there to do as Dr. J.B. Peterson stated so well: "Pursue what is meaningful not what is expedient." The future of our industry is in our hands, literally. Let's carry Erik's mission (and again, the very few other's) far, far into the future. Let's change the world by coming back to the origin. Let's touch and unite again!
Joel Orozco
Las Vegas, Nevada