Jodi Collins has been working as a massage therapist in Townsend since 2008. We're delighted that she decided to pursue certification as a Master Myoskeletal Therapist (MMT). Achieving this certification, one of the highest standards for a massage professional, is no small feat. It takes a burning desire to get results for your clients and a great deal of commitment. Below is her story in her own words. This talented therapist can help you with all kinds of musculoskeletal conditions, including headaches, rotator cuff problems, sports injuries, and more. To book an appointment for massage therapy in Townsend, click the appropriate link at the bottom of this page.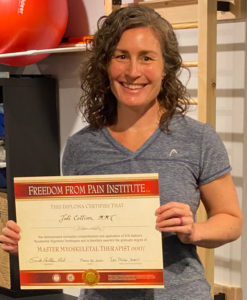 Jodi was led to massage as a career through her own journey of injury and subsequent recovery. In late 2002, Jodi was in a car accident that significantly impacted her ability to be active in life. Like many people, she came up against many obstacles in physical therapy and at one time despaired of ever enjoying the activities that she loved again. That is, until she found a good massage therapist who was able to view her, and her injuries, through a different lens. This therapist was able to meet Jodi, and her body, where they were in a way that she had not been able to find in the world of physical therapy.
In 2008, she was able to implement a career change, and went to massage school and then opened her own practice. She attended her first Myoskeletal seminar in 2009 and was immediately drawn to the work. Here was the "lens" that she was looking for! In those early years, Jodi earned her Posture Pain Performance, Lower and Upper body certificates. She realized very quickly that Myoskeletal techniques are an excellent way to view the body and assess "kinetic kinks", empowering both therapist and client with effective tools to change the felt sense of the body, both at rest and in motion.
Jodi studied many other modalities over the intervening years, earning certifications in personal training and mobility training, along with quite a bit of study around craniosacral techniques, visceral techniques, and structural integration. Through all of this, Myoskeletal techniques remained, and remain to this day, the foundation of her practice.
In 2018 Jodi attended a Myoskeletal seminar and became aware of the MMT Program. She continued her education through home study and is thrilled to have earned the designation "MMT". Jodi is passionate about helping people live better, more fully embodied lives. Sometimes a person's starting point is pain, or immobility, a desire for enhanced performance in sport, or simply to take better care of themselves. Whatever the goal of the client walking through the door, Jodi can use tools learned through her MMT journey to help meet those goals. She looks forward to continuing to learn and grow as a therapist in the Myoskeletal community!
Jodi Collins
Townsend, Delaware