If you're looking for massage therapy in Lake George, Hendrik Alexander Tassyam is the massage therapist to see. We're delighted that he decided to pursue certification as a Master Myoskeletal Therapist (MMT). Achieving this certification, one of the highest standards for a massage professional, is no small feat. It takes a burning desire to get results for your clients and a great deal of commitment. Below is his story in his own words. This talented therapist can help you with all kinds of musculoskeletal conditions, including headaches, rotator cuff problems, sports injuries, and more. To book an appointment for massage therapy in Lake George, click the appropriate link at the bottom of this page.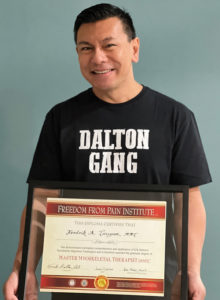 I am passionate about bodywork because it helps people find rejuvenation and renewal amidst the stresses of life and relief from the pains that show up in their bodies due to the stress.
My background in social work and the travel and hospitality industry has shown me that making small changes can have big impacts on people's lives. To make a change, bodyworkers have the tools clients need, and the human touch is the outlet for our anxiety, loneliness, and depression. Erik educates us through valuable research, then guides us on how to down-regulate the stress response to manage pain.
Since I was in massage school I always have been drawn to clinical and sports massage. After I stumbled across Erik Dalton's Myoskeletal Alignment on YouTube and his books in 2015, I was determined to study more about Myoskeletal Alignment Technique and pursue my Master Myoskeletal Therapist Certification. I found the MAT program to be comprehensive, and Erik has a gift for articulating complex data that is easy to understand and integrate into my practice. Beyond expanding my knowledge base and skills the course enables me to educate my clients in a way that excites them about their own processes.
The workshops are very fun, and educational and have made a huge impact on my practice! Erik's work fits seamlessly into any massage modality I have ever worked with, and I am so grateful for the support from Education Director Kim Miller and all 'Dalton Gang' teaching assistants during my workshops. They really helped enhance my learning experience. Studying Myoskeletal Alignment Techniques really put me on a different level of practice and my relationship with my clients. It works, and my clients love it! Thank you, Erik! I am very proud to become an MMT and look forward to sharing this with others. Peace and Blessings!  
Hendrik Alexander Tassyam
Lake George, NY