Emery Hill is considered by many to be the top massage therapist in Houston. We're delighted that he decided to pursue certification as a Master Myoskeletal Therapist (MMT). Achieving this certification, one of the highest standards for a massage professional, is no small feat. It takes a burning desire to get results for your clients and a great deal of commitment. You can read a little bit about his journey below. He is highly skilled at treating a range of myoskeletal problems, from back to carpal tunnel syndrome. To contact Emery to make an appointment for massage therapy in Houston, check the links at the bottom of this page.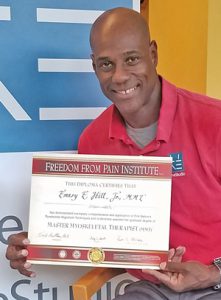 Emery Hill joins the Dalton Freedom From Pain Gang after a 25-year career as a team based NATA certified athletic trainer. Emery has spent time working in an elite level sports performance clinic in Colorado Springs and with the Houston Methodist Hospital. He works a variety of events providing sports medicine care although his primary assignment is with the Houston Ballet.
Emery's training includes a B.S. in exercise and sports science with an emphasis in athletic training\sports medicine care and a M.S. in exercise science and health promotion sports psychology with an additional education track in rehabilitation science.
In the pursuit of evidence-based holistic treatment solutions and to be able to offer a variety of treatment options, Emery has advanced certifications in TRX training, Instrument Assisted Massage, Functional Movement Screens, Wellness Coaching, Sports Psychology, Rock-Taping, Corrective and Performance Enhancement, Dynamic Neuromuscular Stabilization according to Kolar, USA Weightlifting Technique, Dynamic Variable Resistance Training, and now has achieved Master Myoskeletal Therapist certification from Erik Dalton's Freedom From Pain Institute.
Emery attempts to blend these techniques to offer innovative, evidence-based exercise and movement solutions.
Emery Hill
Houston, Texas