Dee Hyde-Begany is considered by many to be the top massage therapist in Ocean View. We're delighted that she decided to pursue certification as a Master Myoskeletal Therapist (MMT). Achieving this certification, one of the highest standards for a massage professional, is not easy. It takes a burning desire to get results for your clients and a great deal of commitment. You can find out more about her below. She can help you resolve pain problems that many other allied health professions struggle with, including back pain, injuries, and headaches. If you're looking for massage therapy in Ocean View, give Dee a call.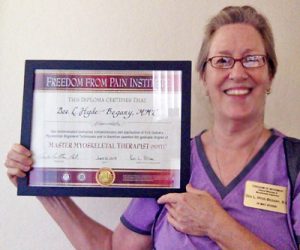 I received my BS from Oklahoma State University and continued post-graduate studies at Memphis State University and Southern College of Ministry. I graduated, and was later an instructor, for the Massage Therapy Training Institute (MTTI). While establishing my private practice, I also incorporated another job as athletic training instructor at New Mexico State University.
When I first studied with Erik Dalton in Costa Rica, 2006 and Paul Kelly later that year, I felt I'd discovered the educational quantum leap I'd been seeking for so long.
Currently, I have a very busy full-time practice on the big island of Hawaii named: "Freedom of Movement: Clinical Massage & Myoskeletal Alignment" and am proud to have completed my "Master Myoskeletal Therapist" certification.
MAHALO & ALOHA NUI LOA TO ALL THE "DALTON GANG"
Dee L. Hyde-Begany
Ocean View, Hawaii
808-238-0968