Brenda Hill is considered by many to be the top massage therapist in Apex. In 2016, Brenda got their Master Myoskeletal Therapist (MMT) certification. It's a big step up from being a standard licensed massage therapist and requires a great deal of drive to achieve. We're pleased that she made that commitment and impressed with the results she gets with clients. You can find out more about her below. She can help you resolve pain problems that many other allied health professions struggle with, including back pain, injuries, and headaches. If you're looking for massage therapy in Apex, give Brenda a call.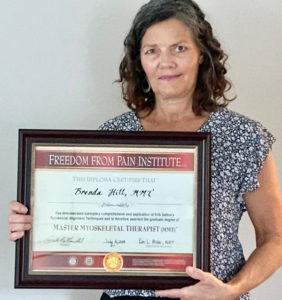 I have spent a lifetime learning and healing people. My first career was as a Registered Nurse working in a Neonatal Intensive Care unit.
After taking a break to raise my family, I looked into my next foray in the healing professions. My own personal healing after a neck injury and surgery led me to choose Massage Therapy. I completed the Massage Therapy program at Body Therapy Institute in Siler City in 2016 and have been practicing since then.
My sincere desire to assist my clients in maintaining an active, healthy lifestyle with minimal injuries and pain has led me to continue my education searching for more techniques. I have taken many different CE classes including NRT (Neural Reset Therapy) and Advanced Trigger Point. My first CE class with Erik Dalton convinced me that this was what my practice was missing! His classes have helped me to look at the body in terms of alignment and function. His techniques have helped me to have greater success in realigning the body and allowing greater ease of movement with less pain. I love having a multitude of "tools" to assess and restore the body! I look forward to continuing my learning journey with Myoskeletal Alignment Techniques.
Brenda Hill
Apex, North Carolina