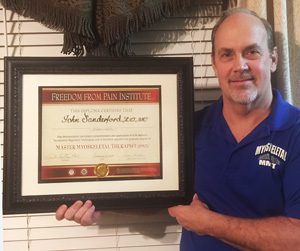 I have felt very blessed to be raised in a family environment where hugs and human touch were welcomed and understood to be a healing power in so many different situations. This has led to my openness and willingness to not judge anyone, but to want to help comfort them. Thankfully there have been many opportunities to do volunteer work thru churches, the red cross, etc.
As I neared retirement from over 3 decades of TV broadcast engineering, I really wanted to focus on helping people in a more direct manor. Having experienced the healing power of massage myself in dealing with pain management, I chose to go back to school and get my massage license, which I completed in 2014.
Fortunately, while waiting for the school semester to start I ran across Erik Dalton's teachings on U-Tube. I realized that his approach was the type of therapy that had helped me so much. I spent hours upon hours of watching his videos and taking notes.
The first workshop I attended in OKC in 2015, changed everything about my approach to pain management, and therapy. I can never thank Erik enough for his and Paul Kelly's help in becoming the therapist I am today. 
It's been awesome to help Freedom From Pain Institute as a TA at multiple workshops. After many courses I recently completed the requirements to become a Master Myoskeletal Therapist.
John Sanderford
Midlothian, Texas
214-301-2586