Choose from these three bundles...
If you have the foundational courses already, then you're ready for the 80-CE hour Advanced MAT Bundle which contains all five advanced courses. 
If you want to work towards Master Myoskeletal Therapist (MMT) Certification, then the 160-CE 
Complete MAT Library Bundle
 is for you. Contains all courses in the Foundational and Advanced bundles.
SAVE BIG! 25% OFF The Foundational MAT Bundle
Many massage practitioners want to move beyond providing basic relaxation to correcting and preventing long-term problems. This means it's time to invest in training that teaches a more clinical approach to working with to pain. Dalton's breakthrough Myoskeletal Alignment Techniques integrates decades of knowledge from visionary researchers and practitioners into a comprehensive system. With these comprehensive course bundles, you'll learn how to find and correct the true source of pain. Make the commitment to mastery with the MAT Foundational Course Bundle – available in home study or eCourse versions. 
Foundational Bundle 80 CE
Core Techniques for Head-to-Toe Treatment
Learn Myoskeletal Alignment Techniques from the convenience of your home with cutting edge eCourses and home study programs. This comprehensive package includes three foundational courses that will ground you in the principles of Myoskeletal Alignment Techniques + a Professional Ethics course. With our eCourse bundle, you get lifetime access and because it's available online, there are no shipping charges.
BONUS: When you purchase the home study course, receive the eCourse for free!
Here's what's included in the Foundational Bundle
Posture Pain Performance (20 CE)
Discover the foundational principles behind MAT technique as we take you on an in-depth look at the connection between pain, posture and function.
Learn unique approaches for working with the shoulder girdle, arms, neck and torso. This course provides you with the skill you need to confidently relieve pain issues in the upper body.
Discover new approaches in treating lower body pain conditions including sciatica, piriformis syndrome, runner's knee, SI joint spasm, pelvic floor dysfunction, rib torsion, hamstring tears, shin splints and plantar fasciitis.
Professional Ethics
(6 CE)
For the protection of both your clients and yourself, ensure you understand codes of ethics and are above-the-board in all legal and ethical matters.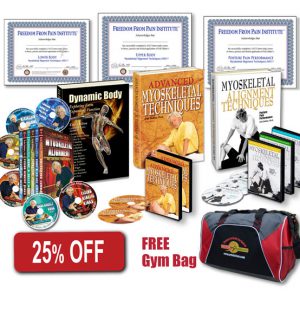 80 CE Only $1,157! $867.75!
80 CE Home Study Bundle with DVDs, Textbooks, and Manuals.
BONUS: Order the home study version and get instant access to the eCourse versions for free!  
Get access to all course materials online instantly. Lifetime access and no shipping fees!   
FREQUENTLY ASKED QUESTIONS